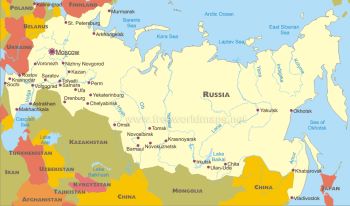 MOSCOW/BUDAPEST (
Worthy News
)– As protesters demanding more freedom and fair elections prepared to demonstrate in freezing temperatures in Moscow Saturday, February 4, a major Russian mission group warned of more difficulties for evangelical Christians and other, religious, minorities in Russia and other former Soviet Union nations.
"Even as demonstrations increase, protesters' hold on religion and civil liberties appears to be slipping in the North Caucasus and Central Asia," explained Russian Ministries in a statement to Worthy News.
"The situation in Russia has been building over the last several years, and is as much about religious liberty as it is about political freedom," the group added.
Russian Ministries, which is involved in several aid and education projects and evangelism, told Worthy News that recent reports "document an alarming increase in limiting the freedoms of minority or dissenting religious perspectives across much of the post-Soviet region."
It also said that Siberia, Russia, local courts have attempted to ban the publication of alternate religious books, calling adherents to Hare Krishna "madmen." The group compared the situation with the Soviet era. "In Soviet times, cults were targeted for persecution, and evangelical Christians were purposefully labeled as followers of a cult."
ETHNIC VIOLENCE
It comes at a same time when ethnic violence is on the rise, with Russian officials reporting this week the deaths of 13 people in a shootout in the North Caucasus between Islamist militants and Russian servicemen.
Russian Ministries said that with the "ethnic violence rising at the same time as religious liberty is under threat, the need to train next generation Christian leaders has never been higher."
Michael Cherenkov, vice-president for Association for Spiritual Renewal, seemed to agree in remarks distributed by Russian Ministries.
"A campaign [to limit religious freedoms] has been taking place in many regions of the Russian Federation for several years already," he added.
He said requests from the Orthodox Church, which closely cooperates with the Kremlin, "to local authorities to destroy rental agreements and other forms of partnerships with Protestants have become common practice."
EXTREMISM CONCERNS
He claimed the church was "concerned about 'extremism'" and added that "The formation of a common enemy is the best grounds for the mobilization of the 'Orthodox.'"
Cherenkov said Russian Orthodox leaders "are losing their authority" so they "need to portray Protestants as 'sectarian fanatics.' In comparison, the Orthodox portray themselves as the real, native spiritual leaders, something they never were in reality."
There was no immediate reaction from the Orthodox Church. Its national televised Christmas service in Moscow is usually attended by prime minister, and soon to be president, Vladimir Putin and other leaders.
Russian Ministries, a U.S. backed group with operations across Russia, said it is cooperating with local Christians to "respond correctly and wisely to the changing political climate across the region."
It said it is "committed to promoting religious liberty for all" in Russia, neighboring Belarus and Central Asia where, it added, "religious restrictions and persecutions are [also] on the rise."
REGISTRATION DEMANDS
Forum 18, a human rights monitoring service based in Norway, said in its latest report that that in Kyrgyzstan, "No progress has been made in dealing with registration applications from—among others—hundreds of mosques, unregistered Protestant churches, and the Hare Krishna community."
In the Nagorno-Karabakh region, a Baptist conscientious objector was sentence to a one-year prison term for refusing to serve in the military. "Fines against Baptists and other religious workers in Uzbekistan are on the upswing. Mission Ministries told Worthy News.
"Activities under fire include reading as a group, allowing children to participate in services and any other activity consider as "proselytism" or "missionary activity." Fines have been levied and repressive laws against religious freedom sign into law in Azerbaijan and Kazakhstan."
Russian Ministries said it has been seen the many "white ribbons, balloons and flags snapping in the wind" recently with anti-Putin demonstrators expected to gather again to hold "anti-fraud banners high" in Moscow on Saturday, February 4.
Putin, who has come also under international pressure over perceived autocratic policies and alleged election fraud by his party in recent elections, is expected to begin a six-year run as president "if the [upcoming presidential] election goes as predicted," Russian Ministries said.
In John 15:18-27 Jesus addressed the issue of persecution:
"If the world hates you, keep in mind that it hated me first. If you belonged to the world, it would love you as its own. As it is, you do not belong to the world, but I have chosen you out of the world. That is why the world hates you. Remember the words I spoke to you: 'No servant is greater than his master.' If they persecuted me, they will persecute you also. If they obeyed my teaching, they will obey yours also. They will treat you this way because of my name, for they do not know the One who sent me. If I had not come and spoken to them, they would not be guilty of sin. Now, however, they have no excuse for their sin. He who hates me hates my Father as well. If I had not done among them what no one else did, they would not be guilty of sin. But now they have seen these miracles, and yet they have hated both me and my Father. But this is to fulfill what is written in their Law: 'They hated me without reason.' When the Counselor comes, whom I will send to you from the Father, the Spirit of truth who goes out from the Father, he will testify about me. And you also must testify, for you have been with me from the beginning."
Here in the United States we have been blessed to have a climate of acceptance, though it is changing. Considering this passage, and that as Jesus said, "No servant is greater than his master" we can expect this reaction from those who are not like us. But we can take comfort from the fact that he overcame this world, and is within us in the Spirit to give us peace and strength no matter our circumstance. When the world mocks and condemns us, we remember that he was mocked and condemned. We have his promise in John 16:33- In this world you will have trouble. But take heart! I have overcome the world.
I'll leave you with one more verse: Philippians 4:27 And the peace of God, which transcends all understanding, will guard your hearts and minds in Christ Jesus.
And a prayer: Father, please bless and give your peace and strength to your church around the world. Help us to share our faith in you in our everyday lives. In Jesus' name, amen.